Quick Start Manuals
Details
Get up and running quickly with ArahWeave!
We have published the Quick Start Manuals. There are two separate notebooks available for download, one for dobby and one for jacquard. You will find all the steps, needed to design a fabric, explained and illustrated.
Click here to download the English version. We are also preparing translations to Chinese, Finnish, Italian, Spanish, Thai and Turkish language. We will post the news when they are ready.
Arahne at the Rajamangala University in Thailand
Details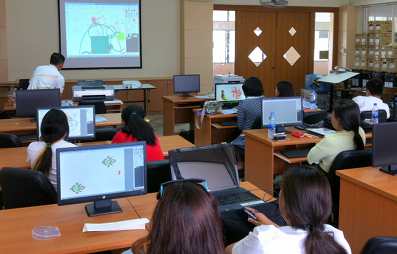 We are honored that Rajamangala University of Technology Rattanakosin from Salaya, Thailand has chosen Arahne software.
Rajamangala University of Technology Rattanakosin (RMUTR) was established in 2005 as one of nine universities named Rajamangala University of Technology (RMUT).
Students have had an intensive course of Arahne software by Arahne engineer Mr. Anton Gregorčič and Arahne agent from Thailand Mr. Vichai Tantikunakonrat. During the four days course students have shown great interest in designing fabrics with Arahne software.
Grassi pioneers header and footer on every roll of fabric
Details
Tessitura Fratelli Grassi from Vertova, north of Bergamo, Italy, is an innovative family run contract weaving mill.

The huge variety of the fabrics they weave, sparkled an idea in the young son of the third generation weaver, Diego Grassi. Instead of pasting or drawing labels to the roll (piece), why not weave it as initial and final part of the jacquard fabric. Such woven label will not peel off, and no material is lost, since initial and ending part of the fabric is ruined in the finishing, anyway.

Grassi's production is already fully integrated with ERP SpyderTex from Il Dato. ERP system sends XML requests to ArahWeave CAD server, which converts the fabric file to the appropriate loom file (Staubli JC4, JC5, Bonas).

Arahne has upgraded ArahWeave with capability to create text labels on the fly, and weave them as header and footer of every fabric order. Operator on the ERP can choose the text, size and weave for the label. Label ground continues from the main fabric, so that it does not create any problems in finishing.

Grassi's customers love this feature so much, that they contest the order, if the top woven label is missing. Never again will a weaver walk in the warehouse or finishing department, looking at the rolls of fabric, and not know immediately who ordered them. We accomplished this only with creative use of existing technology (Jacquard, Arahne CAD), no investment in hardware was necessary.

Happy holidays
Details
Here is a woven greeting tapestry for you! Simulated with ArahWeave...
New agent in USA
Details
Arahne has appointed Marc Rosseel, Marc Rosseel Textile Design & Product Development, representative for the U.S. and Canada market. AVL Looms will continue to handle hand-weaving market.
Marc, is an independent textile design and product development professional and a long-term Arahne customer. He has 20 plus years of experience in textile CAD design and the development of a broad range of textile fabrics and products from tapestry wall-hangings, textured throws, blankets, pillows to custom upholstery fabrics and home furnishings. In the past he has worked with the no longer in operation textile CAD company Sophis Systems, where he had a pivotal role in establishing its US operations, Sophis USA. His expertise includes textile and product design, innovative fabric constructions, complex weave structures, CAD/CAM software and implementation.
We are very happy to have him on board.
Marc Rosseel contact information:
Marc Rosseel - Textile Design & Product Development
16028 Cranleigh Drive
Huntersville NC 28078
e-mail:This email address is being protected from spambots. You need JavaScript enabled to view it.';document.getElementById('cloak4120b0746e5c3dec00da89a4fb81fe7c').innerHTML += ''+addy_text4120b0746e5c3dec00da89a4fb81fe7c+'<\/a>';