How to spot a genuine newcomer in politics?
Details
In turbulent times, people get tired of established parties and prefer "new faces".
But how can you know, if the new candidate is really new? We can use our knowledge of textiles and mathematics.
If a candidate wears stripes on TV, he or she will look horrible due to Moiré patterns, interference of fabric stripes and raster resolution of the camera. You can enjoy it in full motion on this youtube video.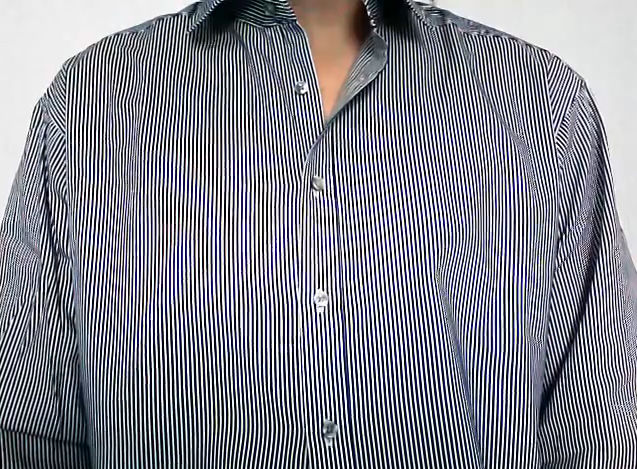 In textile CAD system, we have to work hard to avoid Moiré patterns. Threads of various colors, weaves and designs will always form stripes, which interfere with the pixel resolution of the screen or printer. On top of that, we wish to zoom in and out of the fabric, to get overview of the whole design. In same cases Moiré patterns are unavoidable. But in other cases, they can be avoided. In the latest version of ArahWeave, CAD for textile design, we have studied many advanced mathematical approaches to solve this problem:
We have greatly improved over our previous results.
On the left, you see a tapestry weave colored in yarn colors, and on the right, you see just the black and white weave card (black – warp up, white – weft up). Tapestry weave is very big, 11492x4662, and we wish to make a precise and accurate fabric simulation, zoomed out 16 times.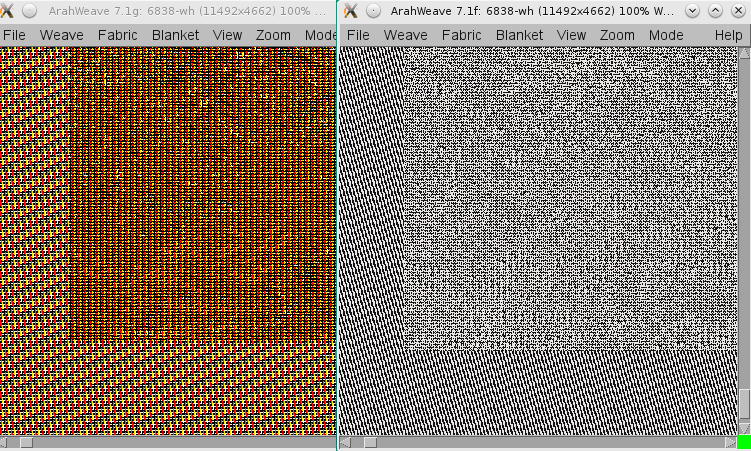 On the left, you have our previous simulation, full of unwanted Moiré patterns, and on the right, the new one.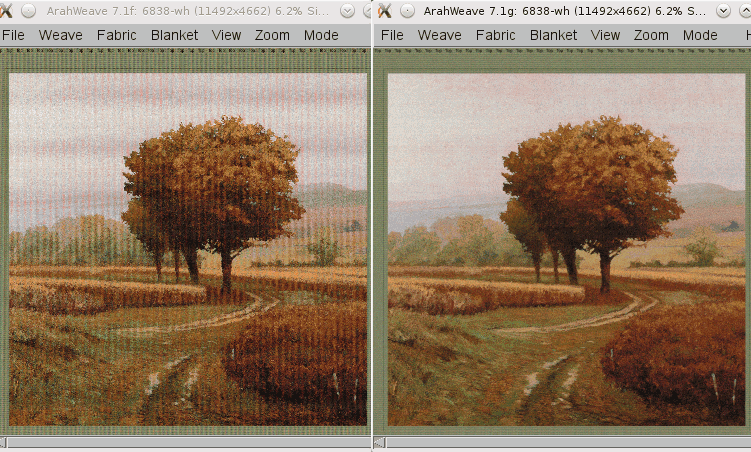 Fabric courtesy of Pure Country Weavers.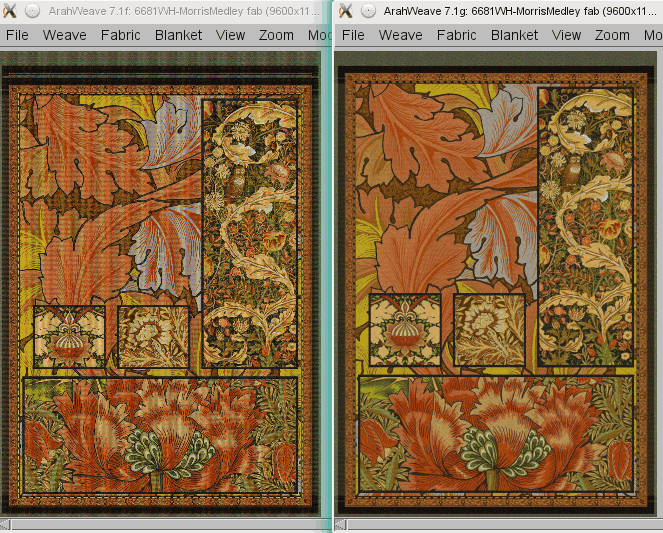 Fabric courtesy of Pure Country Weavers.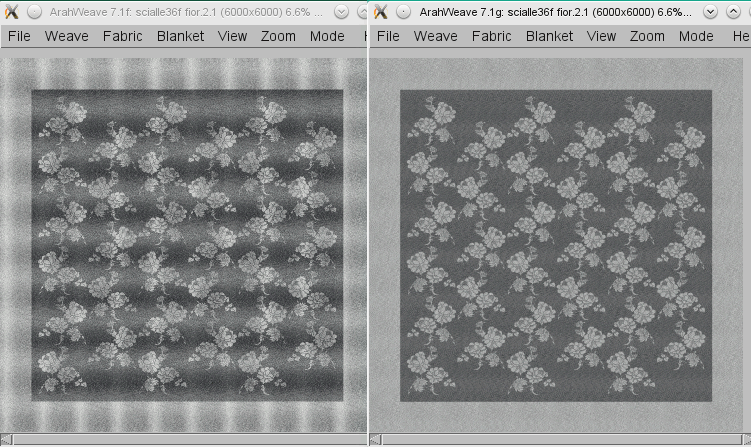 Fabric courtesy of Tessilbiella.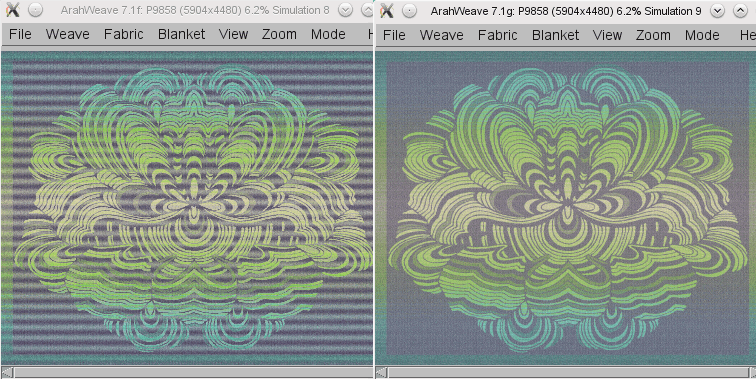 Fabric courtesy of Danzo.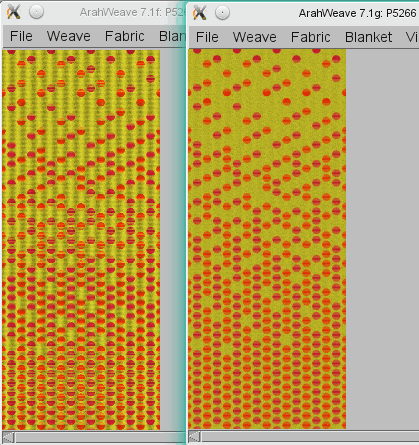 Fabric courtesy of Danzo.
Now we can use ArahWeave to generate very accurate fabric simulations for use in catalogs or e-commerce web sites, based on production data (jacquard card file), not on product photos.
How can we apply our expertise in Moiré patterns on politics?
If your preferred political candidate appears perfect, speaks smoothly, just what you want to hear, and never wears stripes for TV confrontation, don't trust that person. He or she has been planted by the "old forces", trained by spin doctors and fashion advisers. They will show their true colors, once elected.
Video: Importing Vector Drawing into ArahPaint 5
Details
The video shows the importing of vector file into ArahPaint 5, reducing the number of colors, and applying the "Smooth shrink" function which also reduces or even eliminates the intermediate pixels on the border between two colors.

ArahPaint is freely available for Windows, Mac OS X and Linux.
Thanks to Martina Stadler of Pattern Design gmbh for providing us the SVG design for this tutorial. Pattern design provides the fastest way to buy high-quality vector repeat patterns for fashion textiles, home textiles, stationery or graphic designs.
ArahWeave 7.1 ready for download
Details
After a month of testing we are proud to release new version of ArahWeave.
Version 7.1 brings many new features and improvements, the most important are:
- correct fabric simulation display of variable density. Display of regulator and denting was already correct, but now you can correctly display 25 wefts woven with density of 20/cm, followed by 10 wefts with density of 34/cm (Picture 1).
- fixed visual bug on fabrics with regulator, ground fabric no longer shows defect on start and end of regulator (Picture 2).
- eliminated button for removal of extra wefts in jacquard conversion, it is now always done automatically
- faster fabric simulation when displaying yarn preview
- for Staubli looms in network, the function Weave > Read loom status will display all events on the loom since it was powered on. Creation of logs must be enabled on the Stabuli JC4/JC5/JC6 controller (Picture 3).
- in jacquard conversion, multiplication factor of the final weave will be drawn in blue letters if it matches the image size.
- in jacquard conversion, button Open with ArahPaint will open jacquard image for drawing, if it is located in default image directory
- in jacquard conversion, display final weave size in cm or inches
- we have removed some rarely used settings, to simplify the program
- program automatically updates itself, if it finds update file on the desktop
- color picker in color editor allows you to get color from any point on the screen
- if you have scanned one repeat of fabric, loaded as jacquard image, and you click on ruler unit (top left), you can enable display of scanned fabric in actual size, instead of the ruler. Using this function, it is easy to copy warp/weft patterns from samples (Picture 4).
Demo version is already available on the web site.
Customers with valid support contract will get the upgrade by e-mail.
If you wish to get the update, but you did not get it, please contact Arahne.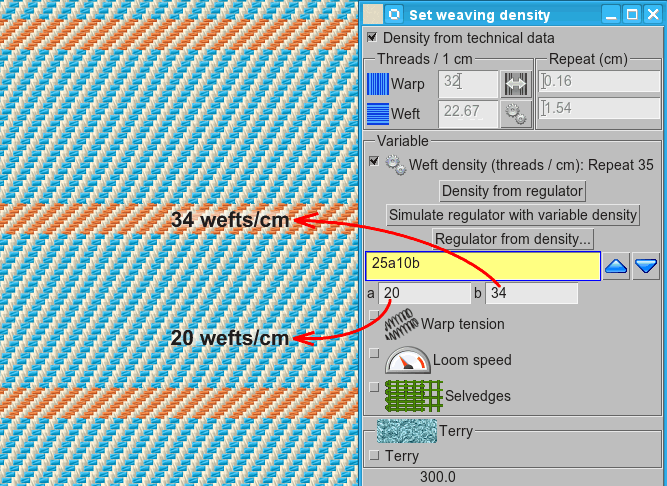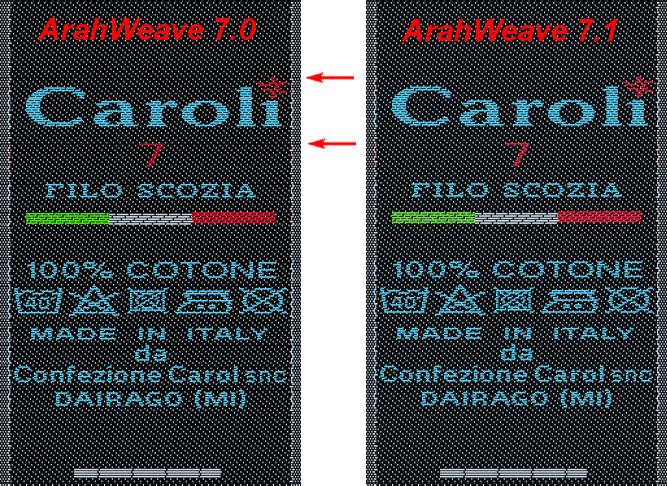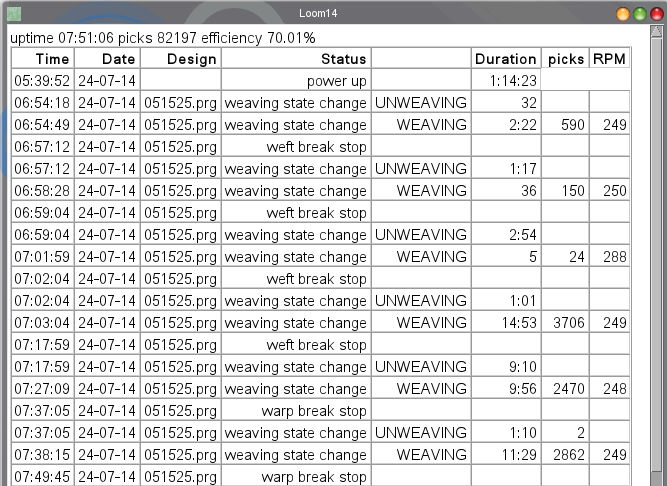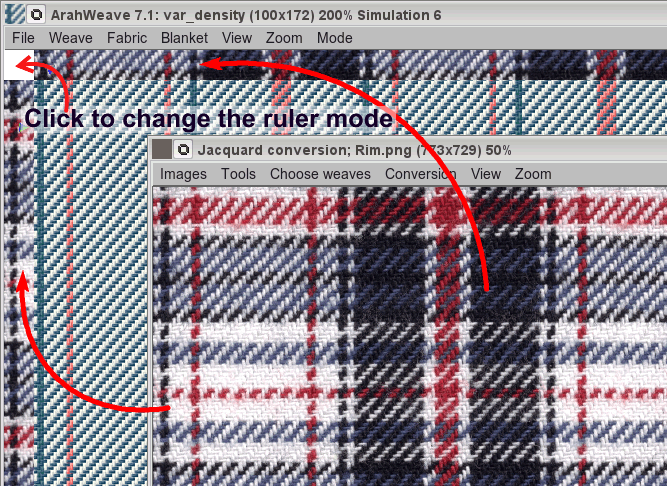 The Caroli woven label courtesy of FGF Labels.
Do programs ever grow up?
Details
Like children, sometimes they do, and parents are proud, if they go out in the world and do big things.
At the end of September 2014, we have dropped the "beta" label from the new ArahPaint5.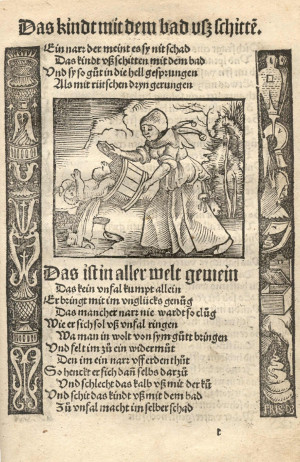 This means that we think it is good enough for production use.
ArahPaint5 was more than three years in the making; it was supposed to be small evolution from ArahPaint4.
Technically speaking, we have just ported it from Qt3 to Qt4 toolkit (programming library which helps us make buttons, menus, draw points on screen).
In doing so, we eliminated the dependency on X Window graphics toolkit, so that program could be ported to other platforms than Linux/Unix.
Sound wonderful. But we have almost thrown away the baby with the bathwater.
The careful speed optimizations, which worked only on Linux, had to be eliminated and replaced with generic toolkit code. The once snappy program became dog slow. What is the big change from the previous beta versions?
ArahPaint5 can now handle big images well. Before ArahPaint 5.0.445, the bigger the image, the slower the drawing. It worked nicely on 1000x1000, slower on 3000x3000, while at 100000x10000 resolution, the drawing speed was reduced to useless crawl.
You could literally see the mouse pointer not being able to follow your movements.
This problem was especially painful, as ArahPaint4 did not have this issue. So existing users, used to fast work, did not want to use ArahPaint5 at all.
Which was a pity, as ArahPaint5 comes with many nice new features:
SVG/PDF import
system wide cut & paste (from/to browser, mail, text editor, scanning application)
guides
pen size preview while drawing on the image
platform specific file selection box with choice of file format
completely redesigned resize dialog, which nicely handles conversion between size in mm/inches/pixels and threads/cm/inches.
This is such an important milestone, that we should look back and thank all the people who made it happen:
Simon Weilguny for writing the first ArahPaint 2.x using Motif toolkit in C on UnixWare and later on Linux.
Matjaž Gutenberger for rewriting the program as ArahPaint4 using Qt toolkit in C++ on Linux.
Nedeljko Stefanović for:
recently used files with icons
ellipse selection
layout options in text tools
crosshair cursor
bezier curves
antialiased view
Nebojša Obradović and Milan Miletić for:
port to Qt4 toolkit and making Windows and Mac OSX version possible
making build scripts for all platforms (Linux, Windows, Mac OSX)
adding support for SVG and PDF import
guides
implementing redesign of resize dialog
adding initial version of cut and paste
Peter Kovář for fixing the ruler.
Zoran Pavlović for finding and managing programers in Belgrade, and for providing cosy work environment during meetings.
Anton Gregorčič for writing the manuals and bug testing
Ana Bertoncelj for bug testing, for design of shortcuts list, design of program icon and front page of manual, manual layout, Fast Pattern tutorials
Guido Fumagalli and Patrizia Bertolli of FGF Labels and for help in redesign of image resize dialog
Staubli/CSS for financially sponsoring the port to Windows
Bert Pols of Staubli/CSS for Dutch translation and numerous precise bug descriptions and feature suggestions
Peak Ding for Chinese translation
Antti Alalami for Finnish translation
Vincent Masurel for French translation
Katarzyna Jaworska for corrections in Polish translation
Jaime Vives Piqueres for Spanish translation
Vichai Tantikunakonrat for Thai translation
Sabri Sever for Turkish translation
If we missed somebody or if someone's contribution was misrepresented, send us a note and we will correct it.
So is ArahPaint now a big program? It is not an intergalactic success like Photoshop or Gimp. But it does serve its niche of textile design.It is used by thousands of designers every day. It is available on all major operating systems, translated in 13 languages, It has survived the test of time, and got several facelifts to stay attractive. So please download it, is is free, and if you like it, recommend it to friends.
Dušan Peterc
Here is a little gallery of ArahPaint's evolution.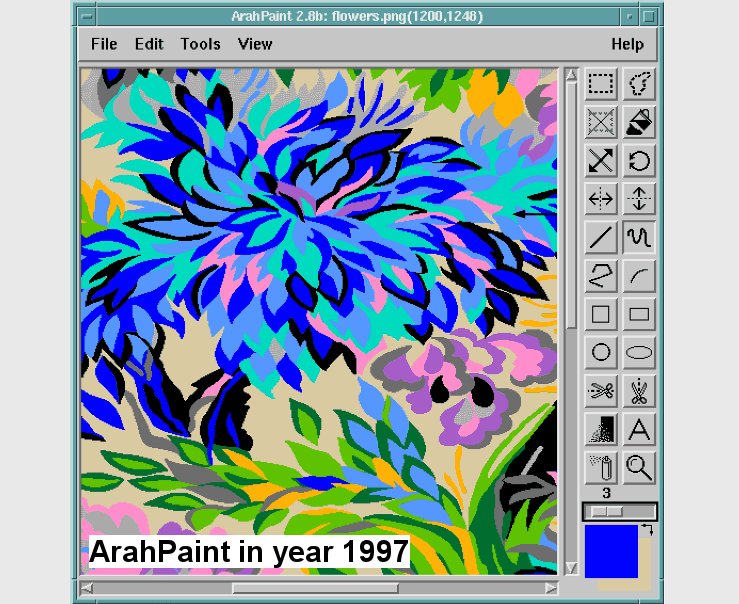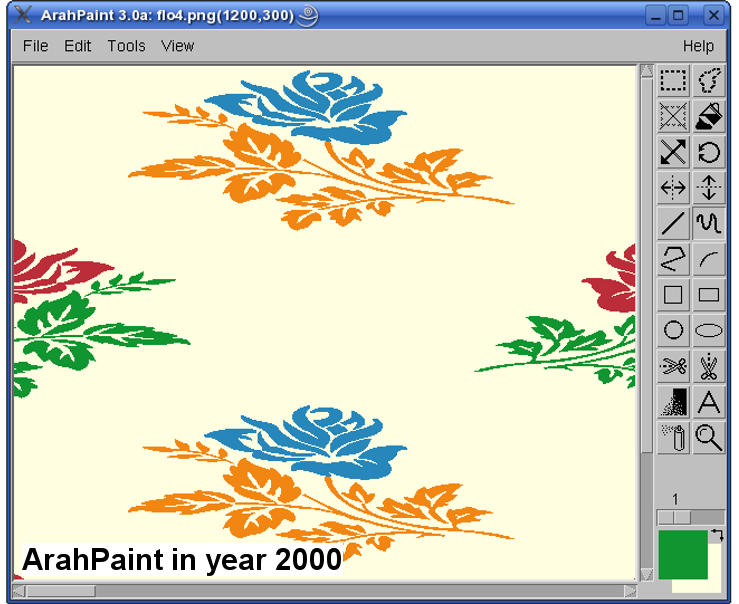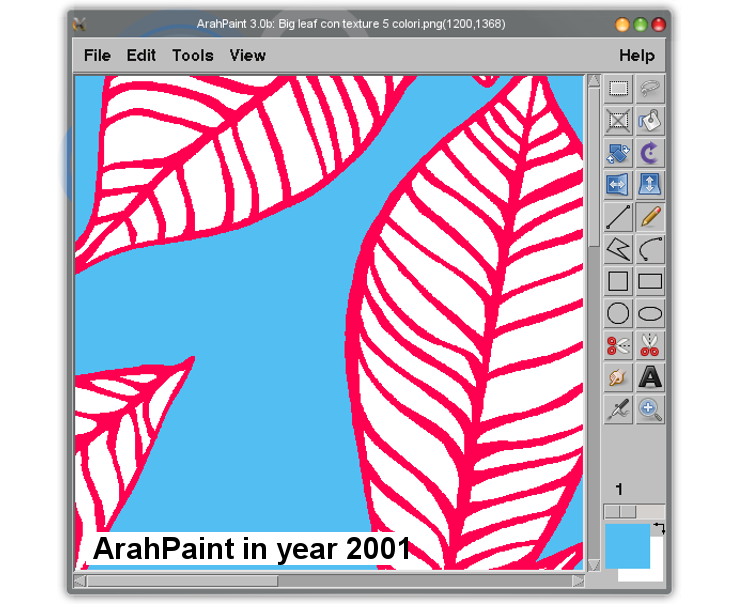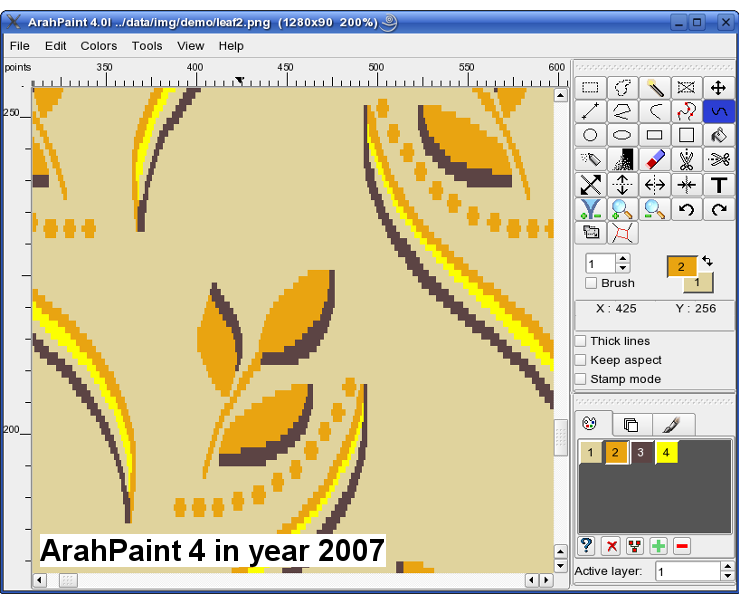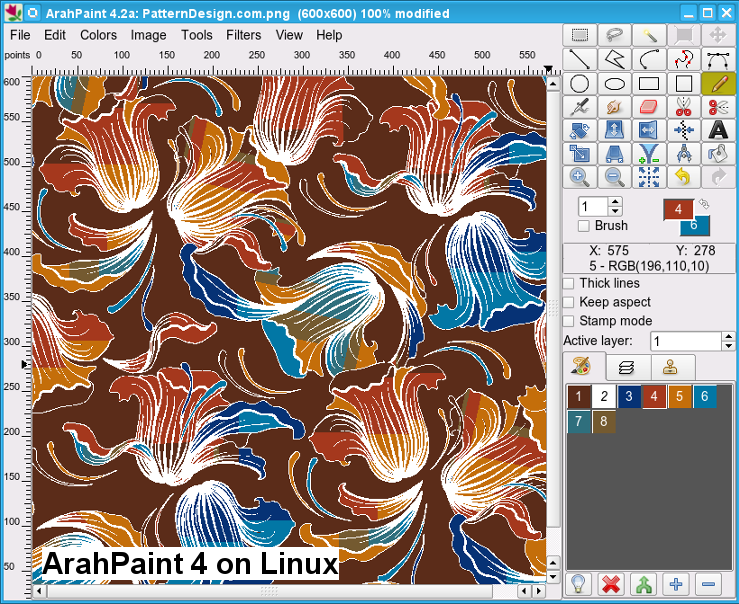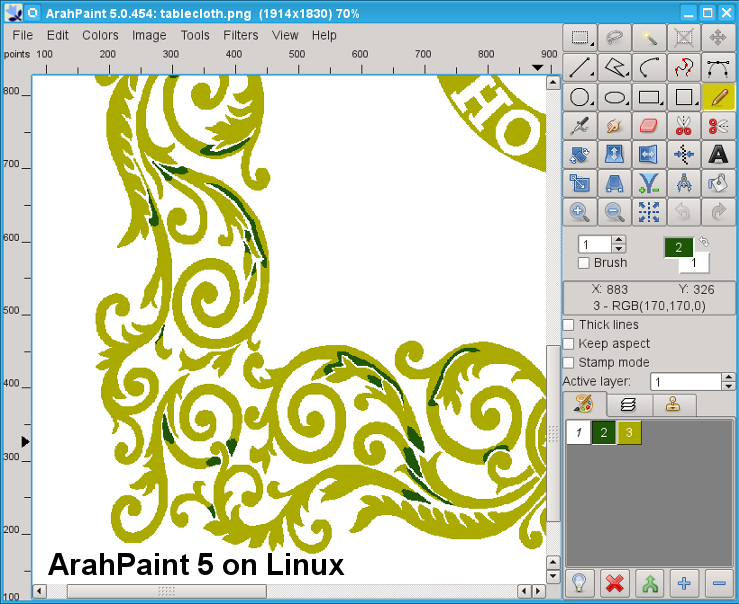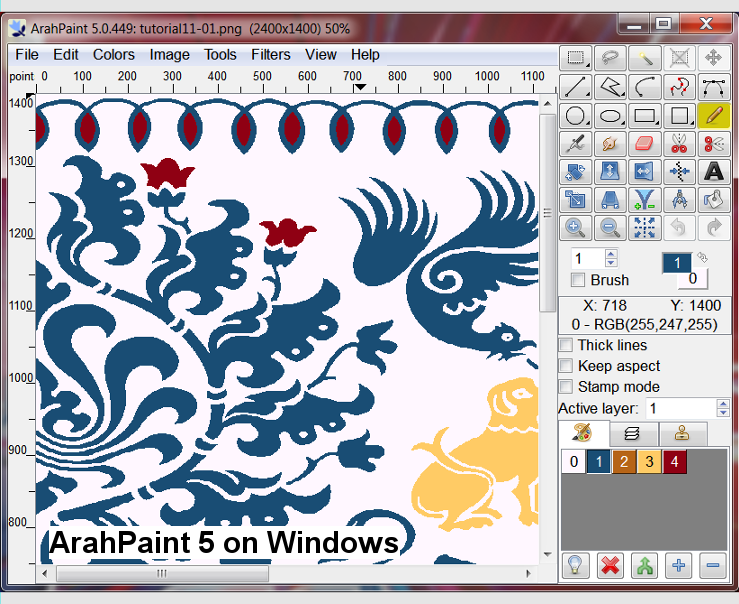 Arahne has a problem
Details
She is a people pleaser. When someone asks her a favor, she is eager to help. She feels insecure, unappreciated, and by doing stuff for others, she builds her self-esteem. But people ask her different things, sometimes contradictory ones. So she has developed a split personality, showing different face to different people. Some accuse her of being manipulative and dishonest, but all she wants is to be liked by everyone.
What has this psycho-babble have to do with software? More than you might think. Customers ask as for new functions all the time. Whenever possible, we try to add them. Hey, it is just another button. Problem is, that by making one customer happy, we might alienate hundreds of others. One customer wanted us to replace weft yarn letters a, b, c, d, e, f, g… with Roman numbers I. II. III. IV, V. VI. VII. ... The person who never worked in another factory, told us that everyone works like that. Oh well... We ended up adding it as an option in HTML printout. Over the course of 20 years of development, we have accumulated a fair amount of features needed by only a handful of customers. But those customers who need them, can't live without them. This is called feature creep in software engineering, and it is a sign of bad design.
Of course, everyone likes to play the Steve Jobs card: keep the essential, and cut off the rest. The concept is well illustrated in the famous cartoon by Eric Burke, which compares Apple, Google and our product.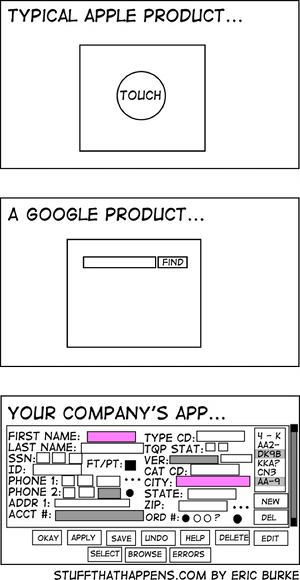 By dumbing down the product, you make it appealing to the general public. But weaving CAD is not for everyone, we don't target average Joe. If you are not prepared to learn the meaning of warp, weft and yarn count, you can't design fabrics. Our customers are competent woven designers. Still, this is no excuse to flood their visual system with fifty buttons on every window. We want to make the program simple for beginners, with all the basic functions without much distraction. And also offer all the advanced functions for customers, who can handle them. Our solution is similar to split personality – ArahWeave 7.0p will show different user interface to different users, depending on program mode.
Program Mode menu offers you the choice between Simplified, Normal, Expert and Server mode.

- Simplified mode is for beginners, it is the default mode in demo version of the program. It will hide most of the complex, hard to understand features, and keep the essential. For example, beginner probably won't make fabric with dual weft insertion, two warp beams, and does not care about the fabric price calculation. A weaving course in school should use simplified mode.
- Normal mode is the default for ArahWeave Personal Edition or Pro versions. It has all the functions, to which you have been accustomed.
- Expert mode offers some exotic, potentially dangerous functions, should be used for those, who know what they are doing. One such function in this mode allows users to convert jacquard cards into fabric files by using loom layout. Or converting all the weaves from BMP, TIFF, GIF... to Arahne weave file format.
- In Server mode, program's GUI functions are blocked, and its functionality is triggered by XML files, created by the ERP system.
User is free to switch the mode at any time, so we are not taking anything away from the users.
In an ideal setup, we should allow users to decide the fate of each of over 1000 buttons and menus. Do you want to see it in your daily work, or you prefer to have it hidden. The only problem is, how do you decide, if you don't know precisely what does it do? Who has the patience to go through whole interface and decide the visibility of each button?
We started with an unusual comparison, so let's end in that way as well. A European visitor to USA is sometimes puzzled by the flood of choices at restaurants, for example at SUBWAY®: What kind of bread, what shape of bread, which pieces of salad, vegetables, meat, cheese, which toppings... One would prefer a simple "panino", your best bread with a slice of mozzarella and tomato, give it a fancy name like "Capri", and that's it. Someone with good taste makes all the choices for you, and offers you a small choice of well rounded products. This is what we have tried to accomplish with program modes in ArahWeave. If there are functions you would like us to hide or show in particular mode, tell us about it. We are eager to please
.